SUPERIOR ROOM
Come home to your own private retreat. With our signature Dream Bed and bath, it's the perfect way to indulge after a day of adventure.
AMENITIES AND SERVICES
Wired and wireless broadband Internet access
iHome™ Bluetooth MP3 Player
Electronic safe with charging facility
Marble bathroom with glass wall
Combined bathtub and shower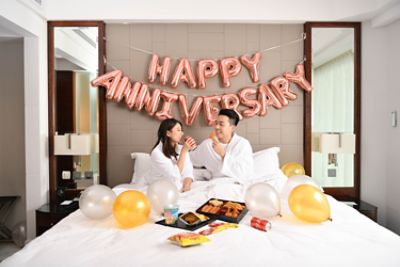 CELEBRATION PACKAGE
STAY OFFER
A staycation package available for every occasion – birthday or anniversary celebration. Guests will be delighted by the fabulous balloon decorations and two delectable snack party platters to share. Guest can top up with one-pound strawberry cake at a special price of HK$250 net to elevate the experience.