CLUB LOUNGE
Hong Kong's best-kept secret. With breathtaking views and unparalleled service, the Club Lounge gives you everything you need to unwind or work, whether it's a working lunch, afternoon tea with loved ones, or a satisfying workout.

Level 36, Cordis, Hong Kong, 555 Shanghai St. Mong Kok, Hong Kong
IT'S ALL ABOUT YOU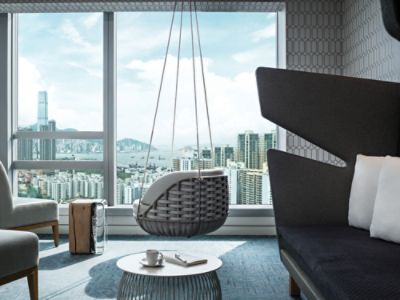 ACHIEVE YOUR EQUILIBRIUM
Find the balance you need, whether it's relaxing and unwinding as you enjoy panoramic views of the harbour and Hong Kong skyline, or pushing yourself hard with a workout at the Fitness Centre.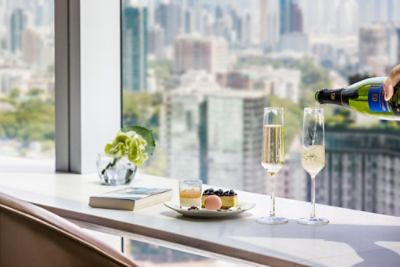 BE SPOILED FOR CHOICE
The ideal space to connect over a tête-à-tête over tea and canapés, or a glass of Shiraz as you wind down the evening.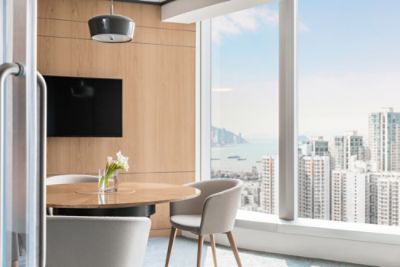 STAY CONNECTED
Make use of complimentary Club meeting spaces and high-speed connectivity to stay connected with what matters most, or simply to get in the zone.
CLUB PRIVILEGES
Personalised check-in and check-out at 36/F
2-hour complimentary use of Club meeting space per stay (subject to availability)
Refreshing breakfast from 7:00am to 10:30am daily; and Champagne breakfast from 7:00am to 10:30am on Sundays and Public Holidays
A selection of afternoon tea treats from 3:00pm to 5:00pm
Pre-dinner drinks and canapés from 6:00pm to 8:00pm
Guest hosting: HK$300 net per person to host guest for breakfast| HK$400 net per person to host guests for afternoon tea | HK$500 net per person to host guests for pre-dinner drinks and canapés
Unlimited wireless and broadband Internet in your room
Complimentary pressing service of 3 garments (except evening gowns & tuxedoes) per room per stay
Complimentary use of rooftop swimming pool and Fitness Centre (Level 41)
Enjoy 15% off the regular Chuan Spa treatment (60 mins or above) or mini feet retreat (30 mins), advance reservation is required and subject to availability.