TAKING CORDIS AUCKLAND TO NEW HEIGHTS
Inspired by a visionary blend of contemporary design and the Maori concepts of Te Whai Ao (light), Manawa (heart) and Kaitiakitanga (guardianship), the Pinnacle Tower is poised to set a new benchmark for modern luxury in Auckland. Rising 17-storeys high, a sleek exterior looks out to the city skyline and harbour, offering a breathtaking vista of Auckland and Rangitoto Island from its upper levels. Inside, sophisticated spaces, custom made furnishings, privately curated artworks, and an extraordinary VIP suite and Club Lounge are set to be the talk of the town. Step inside… and join us on a journey to a place where the sky is the limit.
17 floors of upscale accommodation

244 new rooms and suites with 252.6m2 VIP Chairman Suite

317.3m2 Club Lounge seating 88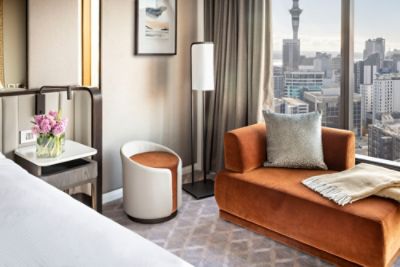 GUEST ROOMS
ROOM TO BREATHE
A light and natural environment welcomes you to the stunning Pinnacle Tower. Inside your room, a spacious retreat awaits with plush carpet, designer furniture and the latest in-room entertainment. Understated elegance sets the scene here, and unswerving attention to detail ensures everything you need is right at your fingertips. From the private Suite balconies that bring the outdoors inside, to the floor-to-ceiling windows that flood every room with natural light, it's all about creating the perfect space for you. As you move through the levels, specially curated NZ artworks invite you to engage with our local culture, each one telling a story of earth, water, fire or wind.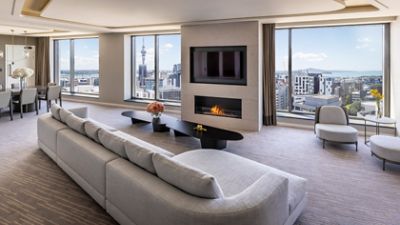 CHAIRMAN SUITE
THE HEIGHT OF LUXURY
When only the best will do, our VIP Chairman Suite puts you firmly in the lap of luxury with a huge 252.6sqm of space to call your own. Located on the highest level of the Pinnacle Tower, a sophisticated living area affords spectacular city views from Auckland's iconic harbor bridge all the way to Rangitoto Island and beyond. Innovative design combines impeccable custom made furnishings with luxuries like a private terrace and fire-pit, a state-of-the-art entertainment system, your own powder room and a walk-in wardrobe. The Butler's kitchen and dining table with space for 10 are an entertainer's dream, perfect for a private dinner party, or enjoy an aperitif on the balcony as the fire-pit blazes.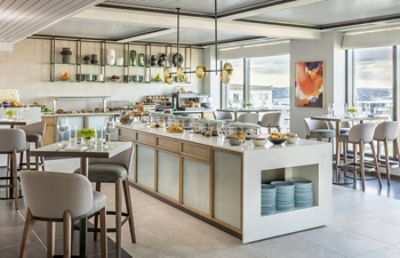 CLUB LOUNGE
SANCTUARY OF STYLE
Welcome to Cordis Auckland's Club Lounge, a private sanctuary designed for the exclusive use of our Executive and Suite guests. Sleek contemporary design, expansive city views and authentic service from the heart set the stage for a Club experience like no other. Located on Level 14 of the Pinnacle Tower, it's all about providing you with the extra service you need to enjoy an extraordinary stay. Hang out and take in the views from the windowed balcony, host your own guests or enjoy the long list of Club benefits. From a delicious breakfast at the start of your day through to evening drinks and elegant canapes as you wind down at the end, our urban oasis is there to help you enjoy the finer things of life.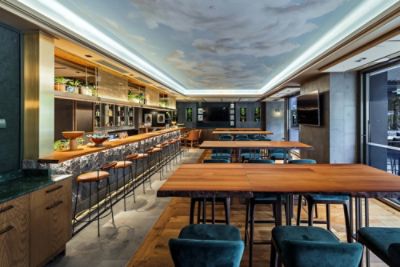 OUR LAND IS ALIVE
NEW ZEALAND IN A GLASS
Say hello to Cordis Auckland's new destination bar, Our Land is Alive, inspired by the very best of New Zealand's locally sourced food and beverages. Boasting a stylish, modern interior and a beautiful al fresco courtyard with native plants and a flickering fire, 'Our Land Is Alive' invites you to experience New Zealand in a glass. Whether it's a shot of TeKiwi 100% Blue Agave or a dram of Waitui Whiskey, our expert mixologists will ensure that every drink is served with flair and aroha. A NZ menu completes the Kiwi experience, with classic favourites including fish pie, ribs and slow roast lamb re-invented with a modern twist.
FUNCTION SPACES
LIFTING THE BAR
Cordis Auckland is proud to have set the benchmark for superior service and venues in the Auckland events scene. The stunning function space, Jade Room, located in the Pinnacle Tower provides an exceptional venue for business and social events. Floor to ceiling windows bathe the area with natural light, and an outdoor balcony provides an added dimension for gatherings. The Jade Room can be used as one large space or sectioned into 3 separate rooms as your needs require. Discover the authentic, personalised service and innovative technology that Cordis Auckland brings to every event.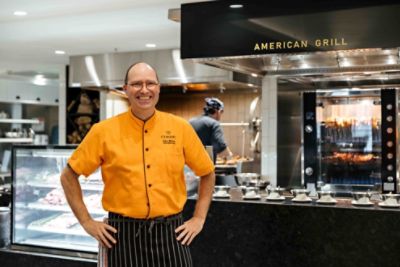 EIGHT RESTAURANT
THE WORLD IS YOUR OYSTER
A world of mouth-watering flavours beckons at Eight Restaurant. Recently expanded and refurbished to accommodate 250 people, the eight international kitchens are hosted by expert chefs who take pride in preparing every dish to perfection. Enjoy as many delicious selections as you please. There's succulent seafood and oysters, freshly prepared sushi, juicy prime cuts from the grill, Asian specialties, authentic curries and more. New to the line-up are a brand new dessert kitchen, an authentic American wood fired grill and an Asian oven offering crispy roasts at dinner. For those who want a little more privacy, a stylish, new dining area, Waru, offers a more intimate ambience for semi-private or group celebrations.