Find the perfect venue for your next business meeting, conference or gala dinner at Cordis, Auckland. There are 18 venues to choose from with live conferencing facilities, advanced technology, and high-speed wireless internet. A personal Events Executive and dedicated on-site audiovisual team ensure your event's success and make doing business a pleasure.
THE GREAT ROOM
The Great Room is one of the largest pillarless ballrooms in Auckland. The 1,160 square-metre venue features its own grand entrance and a spacious reception area with built-in bars, suitable for pre-event cocktails. Its luxurious fittings and high ceiling with 33 showstopping chandeliers create the perfect ambience for prestigious events and galas.
FLEXIBLE EVENT SPACES
Explore our range of versatile event spaces and purpose-built meeting venues, including a selection of function rooms located on the ground floor with wide passageways and direct street access. All of which come with advanced conferencing facilities and audiovisual technology.
DEDICATED EVENTS TEAM
Our professional and knowledgeable events and banquets team are on hand to provide unparalleled service every step of the way, so you can enjoy a seamless and hassle-free experience.
THE LATEST TECHNOLOGY
Take advantage of cutting-edge technology in our venues, including the latest interactive touch screens for presentations. An audiovisual team is also on standby to assist with your event's sound and lighting needs.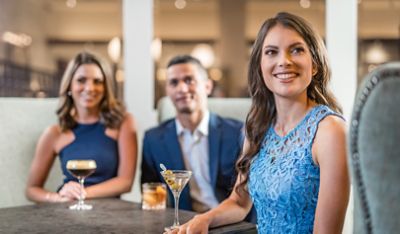 SOCIAL GATHERINGS
Cordis is devoted to turning good times into great times. So expect elegant spaces - with backdrops of Auckland - where you can meet, mingle, and just enjoy life. You'll also find divine cuisine and all the support you need to ensure your social gathering is a success.