Never feel bored at Cordis, Auckland – explore unique experiences and adventures inside and around the hotel.
OUTSIDE THE HOTEL
FOR THE FAMILIES
Gather the family for a sightseeing dream that includes the wildlife at Auckland Zoo, a visit to Tree Adventures in Woodhill Forest, and the best ice cream in town.
FOR THE FOODIES
Tempt your taste buds with great foodie experiences including a local food tour with The Big Foody, fresh fish and chips at the seafood markets, and delicious desserts downtown.
FOR THE EXPLORERS
Unleash your inner daredevil with exciting Auckland adventures including skydiving, bungy jumping, jet boating and more.
FOR THE ROMANTICS
Let the romance shine with these magical experiences, including a sunset stroll at Piha Beach and a day exploring the vineyards of Waiheke Island.
AUCKLAND WAR MEMORIAL MUSEUM AND WINTER GARDENS
Discover New Zealand's many cultures and peoples, priceless Maori treasures (taonga) and amazing natural history. Take a stroll in the Auckland Domain, feed the ducks, and check out the stunning Winter Gardens. A small entry charge is payable for non-residents visiting the Museum.​
EXPLORE MORE
AUCKLAND ART GALLERY TOI O TĀMAKI
Discover New Zealand's premier collection of artworks, featuring over 15,000 works including Lindauer and Goldie's priceless collections of early Maori portraits, as well as international exhibitions
EXPLORE MORE
PONSONBY VILLAGE
Historic Ponsonby Road is a haven for fashionistas and is packed with boutique shops, designer stores and chic bars and restaurants. While you are there, don't miss Ponsonby Central, with its laneway of stylish bars, an organic produce market and quirky retailers.
EXPLORE MORE
NEWMARKET VILLAGE
Top designer stores overflowing with international and local labels make Newmarket one of Auckland's key fashion hubs. Head to the Broadway strip, Nuffield and Teed Streets, where you'll find some of New Zealand's leading fashion designers.
EXPLORE MORE
PARNELL VILLAGE
Picturesque Parnell is a wonderful place to explore and dine. Elegant colonial-style shops house an eclectic array of cafés, restaurants, art galleries and antique outlets. The Parnell Rose Garden on Gladstone Road is great for a summer stroll, with more than 5,000 roses creating a blaze of colour.
EXPLORE MORE
KARANGAHAPE ROAD
Affectionately known to locals as 'K Road', this vibrant part of Auckland is a creative hub for alternative fashion, arts and events. Take a walk along the ridge and enjoy the mix of independent art galleries, cafés, vintage stores and restaurants.
EXPLORE MORE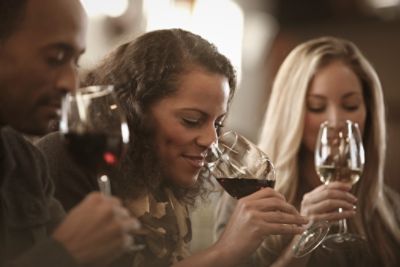 EXPLORE AUCKLAND
Discover great food, shopping, nightlife, events and sightseeing recommendations from our guides.