Never feel bored at Cordis, Hangzhou, Sci-Tech City – explore unique experiences and adventures inside and around the hotel.
OUTSIDE THE HOTEL
BOAT TOUR
"Enjoy a comfortable climate featuring abundant precipitation and four distinct seasons."
Take a leisurely electric boat ride along the serene waters of Xixi National Wetland Park, or row one yourself starting from Zhoujia Dock, then through to Plum and Bamboo Cottage, Water Pavilion and Qiuxue Hut.
CONTACT CONCIERGE
LOCALLY YOURS ITINERARIES
"Enjoy the rich culture and breathtaking views of the mountain, temples and tea plantations."
Find peace and tranquillity away from the hustle and bustle of the city at Jing Shan, where Hangzhou's famous Jing Shan tea is grown. The history of the tea plantations dates back to the Tang dynasty (618-907), when the Jing Shan Buddhist Temple was first built south of the Yangtze River.
CONTACT CONCIERGE
JOGGING MAP
"Start a healthier life with us."
Put on your running shoes and combine sightseeing with some light exercise while following a specially curated jogging route prepared by our concierge.
CONTACT CONCIERGE
DREAM TOWN
"A place that reflects China's contemporary efforts to promote innovation-driven urbanisation."
Dream Town is where ancient architecture is juxtaposed with technology, innovation and China's entrepreneurial spirit. Admission is free and you can also visit revolutionist Zhang Taiyan's former residence and the Siwu Granary Exhibition Hall.
EXPLORE MORE
LIANGZHU MUSEUM
"Wander around the museum and learn about the stories of jade culture, the life of the Liangzhu people, and the structure of the ancient city."
View an extensive collection of Liangzhu relics, some of which are over 5,000 years old. The beautiful Liangzhu Museum is the epitome of Neolithic Liangzhu culture. It was designed by British architect, David Chipperfield, and built on the actual site where many Liangzhu treasures were unearthed.
WETOWN
"Just a few steps from the hotel, there's always something to see or do."
Shopping, dining, entertainment — you will find it all and more in WeTown. With over 140 stores and restaurants, there is something for the entire family, including several retail stores of renowned brands that have recently made their debut in Hangzhou. 
YUTING YAJI ART GALLERY
"Enjoy a mindful afternoon in the gallery and see great art pieces in a new light and angle."
Yuting Yaji is an exclusive private art gallery in Hangzhou, located only two kilometres from the hotel. Each year, the gallery's host brings in different themes of art exhibitions for a limited time. Admission is free and you can view the current Kunqu Opera Exhibition until 31 December 2021. 
HANGZHOU XIXI INCITY
"Shop to your heart's content with family and friends."
Enter China's first eco-shopping centre and find four large atriums and six floors of mid to high-end fashion stores, cafes, a cinema, a tennis court and even a rooftop garden. The award-winning Xixi Incity creatively weaves in the natural environment into its design, combining leisure with tranquillity. 
XIXI NATIONAL WETLAND PARK
"Discover more than 600 species of vascular plants, insects and birds in this National 5A Wetland Park."
The wetland park covers an area of 10 square kilometres in western Hangzhou, less than five kilometres from West Lake. It is China's first and only national wetland park to combine urban life, farming and wetlands. The park is believed to be discovered during the Eastern Jin dynasty, over 1,800 years ago.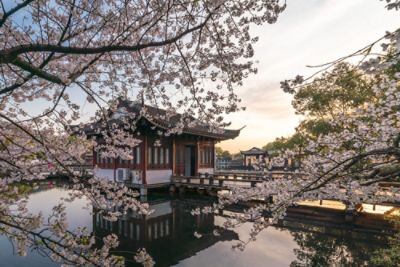 EXPLORE HANGZHOU
Fall in love with Hangzhou's unique culture, exquisite food, vibrant nightlife and beautiful nature with top recommendations from our guides.